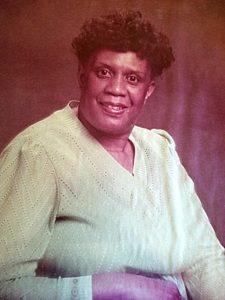 Mary Etta Brown, 85, of Lincoln Nebraska rested in Lord Jesus on the morning of January 6, 2018.
Born September 18, 1932 in Ripley Mississippi, she was the daughter of the late Milton Miller and Annie Mae Boyd-Miller. As a child, she enjoyed playing with her siblings at the nearby creek collecting crayfish, swinging and playing on the see-saw.
Mary graduated from Secondary School in 1950. She married Fred Monroe in 1951 and from that union two children were born, Brenda Monroe and Marilyn Monroe-Johnson. Mary had three more children, Freddie Gail Monroe, Joseph Brown and Terrence Monroe. Mary lived in Ripley, MS for the first 29 years of her life, moving to St. Louis, MO in 1961.  She married Howard Brown (1917-1979) and out of the union came one child, Lisa (Brown) Monroe-Taylor.
She is survived by six children, Brenda Monroe (Fagin) of Ripley, MS; Marilyn Johnson (Willie) of Blue Mountain, MS; (Freddie) Gail Monroe of Ripley, MS; Joseph Brown (Mitzuko) of Round Rock, TX; Terrence Monroe (Monique) of Wilmer, TX; Dr. Lisa Taylor (Robert) of Lincoln, NE.;  Seventeen  grandchildren, twenty great grandchildren, three great-great grandchildren.
Sisters Clarsteen Foster (Luther) of St. Louis MO; Tommia Russell (Herman) of St. Louis, MO; Milton Eugene Miller (Doris) of St. Louis, MO; James Miller (Virginia) of; Hinesville, GA. and a host of nieces and nephews
Mary lived her life joyously with the purpose of helping anyone in need and showing the love of Jesus Christ to whoever crossed her path. She has an enduring love and passion to serve others in her community.  She was gifted with hospitality and excellent culinary skills which she use to edified the church at potlucks.  As a Prison Ministry team member, she was titled "Mother Brown" by the ladies we serve at Nebraska Corrections Center for Women at York, Nebraska because they were influenced by her kindness, honesty, wisdom, tender kindheartedness, thoughtfulness and impeccable memory.  She was a dependable and committed Allon Chapel Deaconess as well as a FoodNet team member at Allon Chapel.  She was a tender kindhearted prayer warrior and will be greatly missed at Allon Chapel and in the community.  We look forward to that day that the Lord Himself will descend with the shout of the archangel and the dead in Christ will rise up and we will rejoice in Him forevermore.