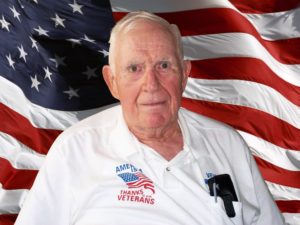 Carl Easton age 92 of Lincoln passed away February 1, 2018 with his family by his side.  He was born November 17, 1925 in Detroit, Michigan to Carl and Bernice (Bricault) Easton.  Carl served his country for 42 years, first in the U.S. Navy then the U.S. Air Force, the Michigan Army National Guard and finally the Nebraska Air National Guard .  After his military career, Carl worked for Burlington Northern Railroad as the Depot Agent.  He was active in the Free Masons, Sesostris Shrine, Eagles, Eastern Star, American Legion Post #3 and V.F.W. Post #131.
He is survived by his son and daughter-in-law, Carl J. and Julie Easton of Oakland, Nebraska; Daughters and sons-in-law, Jeannie Kunkel of Lincoln, Gwen Shinner of Lincoln, Mary and Allen Kaup of West Point, Nebraska, Mona and Rod White of Lincoln, Trish and Paul Drexel of Lincoln, Georgiann and Rick Poppino of Council Bluffs, Iowa.  18 Grandchildren, 14 Great grandchildren.  Brothers, Robert and Tom Easton, sister, Margaret Ann Fockler all of Michigan.  Carl is preceded in death by his wife, Jean (Flowers) Easton, his parents and a brother, John Easton.
Services will be held at 2:00 P.M. on Tuesday, February 6, 2018 at Wyuka Funeral Home.
Visitation will be from Noon until 2:00 P.M. on Tuesday, February 6th.
Interment with military honors will be at Wyuka Cemetery.
Memorials to the family.