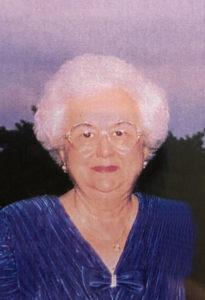 Martha Kaufman age 93 of Lincoln, passed away May 28, 2018.  She was born July 22, 1924 in Lincoln to Peter and Katherine Maul.  Martha was a member of the Eastern Star and Zion Congregational Church.  She partnered with her husband, G. Scotty Kaufman in running their State Farm Insurance agency.
Martha is survived by her daughter, Lynne Smith of San Diego, California and numerous nieces and nephews.  She is preceded in death by her husband G. Scotty Kaufman, her parents, 2 brothers and 3 sisters.
Services will be at 11:00 A.M. on Saturday, June 2, 2018 at Wyuka Funeral Home.
Visitation will be on Friday, June 1st from Noon until 8:00 P.M. with family greeting friends from 6:00-7:00 P.M. at Wyuka Funeral Home.
Memorials to Eastern Star or the Alzheimer's Association may be sent to Wyuka Funeral Home in care of Lynne.