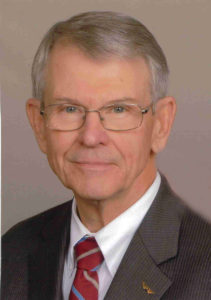 Newel Kent Sanderson passed away on Memorial Day, May 28, 2018.
He was born August 31, 1947 to Merlin and Wilma Sanderson, of Oxford, Nebraska. He
graduated from the University of Nebraska, then joined the United States Air Force.
Capt. Sanderson piloted C-141s during the Vietnam war, carrying supplies to Vietnam
and bringing wounded and killed soldiers home.

After the war, Sanderson flew as a corporate pilot and then, with his wife, Diana,
became a business owner in Lexington Nebraska, before retiring to Lincoln.

He sang in many choirs, starting when he was in college. He was active in Pheasants
Forever, Lions Club and Optimist Club, and was a lifelong member of the Methodist
Church.

He is survived by his wife of 26 years, Diana Schweitzer Sanderson, his sister Sandra
Swan and her husband Bruce, his daughter Christine Sanderson, his stepdaughter
Laura Heine and her husband, Rob, and his stepson Brian Schweitzer and his wife,
Mandy. He has ten grandchildren: Ryan Callihan, Ethan Kellogg, Zoe Larsen, Felicia
Casteel, Baileigh Schweitzer, Alexis Schweitzer, Gabrielle Schweitzer, Tyson Heine,
Sena Schweitzer and Nevada Schweitzer. He also enjoyed five great grandchildren:
James, Nevin, Haleigh, Jeff, and Lani.

Memorial Service will be held July 28, 2018, 10:30 a.m. at First United Methodist
Church, Lincoln.

In lieu of flowers, donations may be made to Alzheimer's Association, Nebraska
Chapter, 11711 Arbor Street, Suite 110, Omaha, NE 68114, or to First United Methodist
Church, 2723 N. 50th Street, Lincoln, NE, 68504.