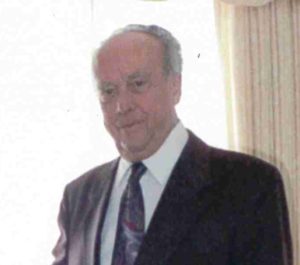 Johannes Peter Hermes age 92 of Lincoln passed away June 2, 2018.  He was born June 5, 1925 in Tonesberg, Germany to Lorens and Elizabeth (Korfers) Hermes.  Johannes married Liesbeth M. Boy in Schaphusen, Germany on December 23, 1954.  In 1955, Johannes and Liesbeth immigrated to the United States.  Johannes apprenticed as a baker and a painter.  He worked as a painter and wall paper hanger for over 40 years and was a member of the Painters District Council #30.  In his free time Johannes enjoyed gardening, fishing and travelling with Liesbeth.
He is survived by his wife, Liesbeth Hermes of Lincoln, daughter and son-in-law, Karin and Terry Plautz of Brainard, Minnesota.  Grandson and spouse, Brian and Melanie Plautz of Elk River, Minnesota and their daughters, Britley Plautz and Kaylin Plautz.  Grandson, Michael Plautz and his children Keaton Plautz and Makenna Plautz.
Memorial service will be at 10:30 A.M. on Friday, June 8, 2018 at Wyuka Funeral Home.
Inurnment will be at Wyuka Cemetery.