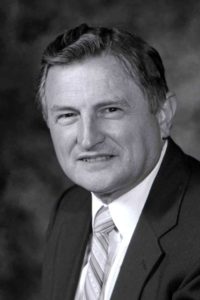 Robert E. Sullivan D.D.S., M.S.D. age 86 of Lincoln passed away August 7, 2018.  He was born May 28, 1932 in Sioux City, Iowa to Joseph A. and Daisey B. (Stanieforth) Sullivan.  Bob received his B.A. from Morningside College in 1954, attended Creighton Medical School from 1954 until he was drafted into the U.S. Army in 1956.  When his military commitment was complete, Bob resumed his academic career, receiving his D.D.S. from UNL College of Dentistry in 1961 and his M.S.D. in 1963 in Pediatric Dentistry.  In 1967, he was a Diplomat for the American Board of Pedodontics.  Bob was a member of the American Dental Association and Nebraska Dental Association from 1961 until present time.  During his time with the American Dental Association he was an accreditation consultant for the Pediatric Dentistry Program from 1980-1988.  Bob was a lifetime member of V.F.W. Post #131 & #3606.
He is survived by his wife, Mary Ann Sullivan of Lincoln.  Preceded in death by his parents.
Services will be held at 1:30 P.M. on Friday, August 10, 2018 at Wyuka Funeral Home.
Visitation will be on Friday, August 10th beginning at 12:30 P.M.
Interment will be at Wyuka Cemetery.
Memorials to Donor's choice.