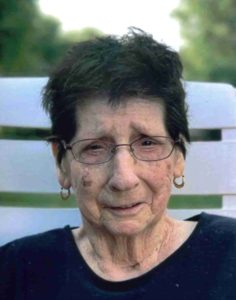 Peggy R. Cochran age 91 of Lincoln, former resident of Venice, Illinois and Granite City, Illinois passed away August 10, 2018.  She was born March 2, 1927 in St. James Parish, Louisiana to Joseph and Mary (Templet) Sennett.  Peggy married William A. Cochran Sr. on October 18, 1953 in DeSoto, Mississippi.  She was a big band and polka music fan, dedicated homemaker, loved bowling and attended many national bowling tournaments across the country.  Peggy was an excellent cook and her home was the gathering place for family functions.  She made many afghan blankets for family and friends.  Peggy loved playing slot machines, watching sports, soap operas and was an avid QVC shopper.
Survivors include her daughter and son-in-law, Wendy and Ron Bryant of Lincoln, sons and daughters-in-law, William A. Jr. and Nannette Cochran, Russell and Debbie Cochran all of Granite City, Illinois.  Robert Cochran of Cleveland, Tennessee.  7 Grandchildren: Zachary Cochran, Adam Cochran, Thomas Cochran, Timothy Cochran, Tyler Cochran, Laura Lee Cochran and Mason Cochran. Many nieces, nephews and friends.  She was preceded in death by her husband, William A. Cochran Sr. on October 29, 1991, her parents, brother, Roy Sennett and sister, Shirley Mefford.
NOTE TIME CHANGE: Funeral service will be held at 9:30 A.M. on Thursday, August 16th at Wyuka Funeral Home.
Visitation at Wyuka Funeral Home, Wednesday, August 15, 2018 from Noon until 8:00 P.M. with family greeting friends from 6:00-7:00 P.M.
Interment will be at Fairview Cemetery.
Memorials to the American Cancer Society or American Lung Association.