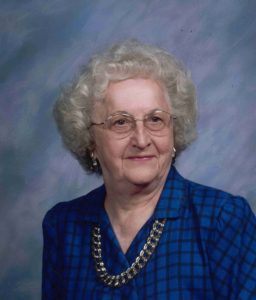 Marian Schessler age 96 of Lincoln passed away November 13, 2018.  She was born January 30, 1922 in Lincoln to John and Madeline "Lena" (Benner) Schessler.  After graduating from Lincoln High School, Marian attended Lincoln School of Commerce.  She later moved to Denver working at Fire and Casualty insurance and in the Federal Parole Office.  Returning to Lincoln, she worked as a stenographer for an insurance underwriter and the Department of Education.  She was a member of Trinity United Methodist Church, Epsilon Sigma Alpha (woman's business sorority).  After retiring in 1987, Marian was a volunteer for Project Help and the State Office Building.  She enjoyed sewing, gardening, canning and Husker football games.
 Marian is survived by her niece Marjorie (Schessler) Osborne of Lincoln; nephews and spouse Dale and Elizabeth "Liz" Schessler of Lincoln, Dean-Ross Schessler of Carlsbad, California.  She is preceded in death by her parents, sister and brother-in-law Lydia and Walter Bernhardt, brothers and sisters-in-law; Theodore and Marie Schessler, John Jr. and Althea Schessler, David and Virginia Schessler. 
 A memorial gathering will be held at 1:30 P.M. on Tuesday, December 18, 2018 in the Garden Room at Wyuka Funeral Home. 
Inurnment will be at Wyuka Cemetery.